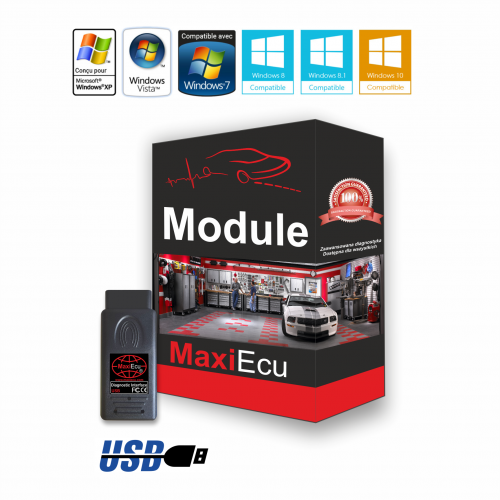 MaxiEcu is a complete diagnostic system. The set consists of interface and original software. What makes us different? The most of interfaces on the market are OBD2 that only enable the diagnostics of an engine. With MaxiEcu You will do 300% more - You will perform service diagnostics, including: DTC ( Diagnostic Trouble Code) - the reading and erasing faults, doing the tests, coding, adaptations, DPF regeneration, deleting inspection, retracking brake calipers, ABS, AirBag, AT, ESP, Immo, UPS, BCM, etc.
SOFTWARE
The system is an authorial solution of the Polish engineers. MaxiEcu software has maximally simplified the adaptation and coding procedures. In order to launch the platform all You need is a tablet, a laptop or PC with Windows operating system. Thanks to it You can feel comfortable and make use of the system features with ease. The system is friendly diagnostic platform adjusted to passenger cars and supply trucks.
INTERFACE
Definitely the most important element of the set is the electronic interface - equipped with a multiplexer and firmware update functions. You can choose from three types of interface: USB, Bluetooth and WiFi. Bluetooth and WiFi interfaces can also be connected to a laptop through USB cable.
USER-FRIENDLY
MaxiEcu is intuitive, user-friendly, easy to understand, without the need to read the instruction manual. From the time you have to installed the MaxiEcu you are ready to start the comprehensive diagnostic session.
ALWAYS UP TO DATE
We develop and improve MaxiEcu software, thanks to it You can be up to date with new vehicle models and solutions in car electronics. With MaxiEcu Your work is more efficient and economical - as a User you obtain access to free system updates.
USER ACCOUNT
Buying MaxiEcu system You will get access to the User Account where You have an opportunity to view the purchased products, to verify the awarded licenses and to manage the data on the software version that You have. Through the User Account You can also easily contact the technical support and also download the current software version.
THE LICENSE
Choosing MaxiEcu You will become the owner of the legal and safe software. The license is connected to the interface, which is the hardware key. It means that You can install and use the software to as many device as You wish. You can choose a tablet, a laptop or PC - all you need is the Windows system.
CHECK BEFORE YOU BUY
Below You will find the search engine of MaxiEcu functions. Before the purchase please make sure to what extent does MaxiEcu run a chosen brand.
Software for the brand / brands of your choice
interface
USB cable
Personal license
Key to MaxiEcu
Warranty Card
Box
After the purchase, we send you the activation link to the MaxiEcu user account to the e-mail address provided, from where you can download the latest version of the software.
Software MaxiEcu
Operating system
Windows, XP/Vista/7/8/10
Hardware requirements
Minimum Pentium 4 or better
Free updates
Yes
Supported languages
English, German, French, Romanian, Greek, Italian, Polish.
Interface MaxiEcu
Dimensions
Length 105mm / width 45mm / height 25mm
Maximum power supply
18V
Bluetooth coverage
50m (range in open space) In addition, the interface has a USB port.
WiFi coverage
100m (range in open space) In addition, the interface has a USB port.
Cable
USB, length 1800mm
Plugin
OBD2 16 pin ( integrated with the interface)
Multiplexer
Yes
LED indicator
Yes
Firmware update
Yes
Standard obd-2
PWM J1850 ,VPW J1850, ISO9141, KWP14230(Fast), KWP14230(Slow), ISO15230(11bit,500Kbaud)
Standard obd-2
ISO15230(29bit,500Kbaud), ISO15230(11bit,250Kbaud), ISO15230(29bit,250Kbaud) , SAE J1939
Standards of producers
K-CAN, D-CAN, K1, KW-71, DS-1, DS-2, KW1281, T.P 1.6, T.P 2.0, ISO14229, KW71, IAW, PSA2000
Standards of producers
Bosch KW71, KW81,KW82, PSA2M, Renault ISO, SSM, KWFB, KW2K, KW2C3PE, J1209(Honda)
MaxiEcu Module USB
350.00zł & Free Shipping

Ex Tax: 284.55zł
Product Code:

Module usb

Availability: In Stock